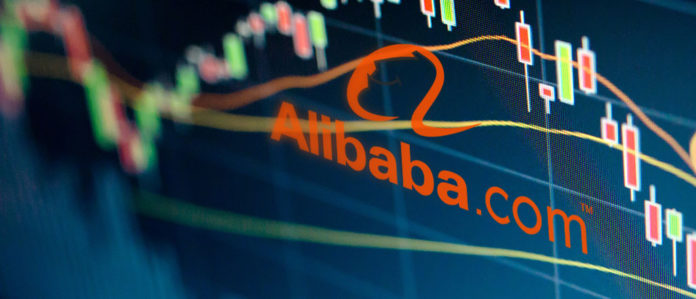 Yesterday we looked at an American retailer (American Eagle Outfitters) that could be ready to "fly" in the coming weeks.
Today, another oversold peddler of goods caught my eye.
But this time, we're looking at an online merchant – one that doesn't rely on brick and mortar stores to generate business.
And no, it isn't Amazon.
However, plenty of people call it the "Amazon of China", and for good reason.
You may have guessed it already, but in case you didn't, I'm talking about Alibaba Group Holdings Ltd (NYSE: BABA), purveyor of notoriously cheap clothing and consumer products in the Far East.
Since dominating online retail "over there", BABA has expanded into other ventures in the pursuit of world domination, mirroring their American counterparts.
And though Alibaba has gotten blasted over the last two months, it looks like fortune may be turning in their favor.
In the weekly candlestick chart above, you can see that BABA just set a higher low two weeks ago – a universal signal of an uptrend. Moreover, contact with the lower Bollinger Band (BB) was made.
Finally, BABA's current price sits above the last three candlestick bodies.
When you combine all three variables, you've got a stock that looks ready for an uptrend continuation.
The one reservation I do have, however, is that the current weekly candlestick high is below last week's high. It's not ideal, but this can be remedied by simply setting your trade trigger to go long at 0.50% above the high from last week.
If BABA doesn't close out the current week as a green candlestick, though, it might be wiser to simply walk away. The 50-week simple moving average (SMA) is down, so in order to buy-in at this point, I'd need to see continued positive movement.
Still, it's a healthy-looking stock that's given us a nice setup – complete with a stochastic reading we haven't seen since BABA's last rally in December 2018.
In general, going long on oversold companies (indicated by low stochastic readings) and going short on overbought ones (indicated by high stochastic readings) is a winning strategy, and one that we've observed over the last few weeks in our analysis.
Alibaba's stock is no different, and because of that, it too appears to be a great opportunity.
So long as President Trump doesn't target the company in his next round of tariffs, at least.