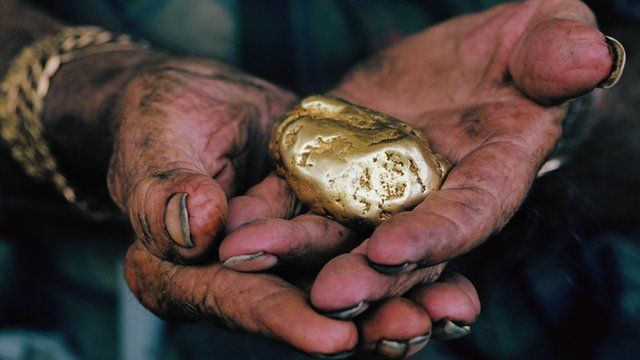 After getting the "uncertainty blues", investors are turning to non-equity alternatives while the market figures out where it wants to go.
Bitcoin – the most popular cryptocurrency by a wide margin – is enjoying a 2019 renaissance as a result. Crypto traders continue to push digital currencies to new yearly highs, and as of this weekend, Bitcoin rests squarely above $11,000.
But in addition to "non-physical" assets, gold has seen a rebound of its own over the last few weeks. And unlike Bitcoin, we may have some time to jump on board before it truly takes off for a moonshot.
Here's why:
In the weekly candlestick chart above, you can see that as it stands, gold is trading way outside of its normal price range. It has exceeded the upper Bollinger Band (BB) by a significant amount, and the stochastics are above 80 – suggesting to us that it's overbought.
The last time this happened was in late 2018, right around when the market bottomed out after Fed Chairman Jerome Powell raised interest rates in September. After Christmas, equities went on a rally of historic proportions and much of the uncertainty fueling gold's growth dissipated.
Back then, gold was trading above the upper BB (like it is now) and stochastics were sky-high (like it is now). What followed was pure frustration for gold bulls, who watched their positions chop sideways for six months straight, dropping slightly for the first half of 2019.
Now, I'm not arguing that gold is ready to do the same for the second half of the year. Nor is it going to come crashing back down.
What I am saying, though, is that getting wrapped up in the gold-frenzy could be a dangerous move short-term. If you're intent on snagging some gold in the coming weeks, at least wait until it sells-off to a price point below the upper BB.
Gold's current growth is simply unsustainable at the current rate, even in the event of continued market turmoil.
Don't get me wrong – long-term, I would argue that gold is going to rise further.
But if you're patient enough, you'll be able to buy it at wholesale prices after the next sell-off occurs.
They say patience is a virtue. In this case, though, it could also get you paid.