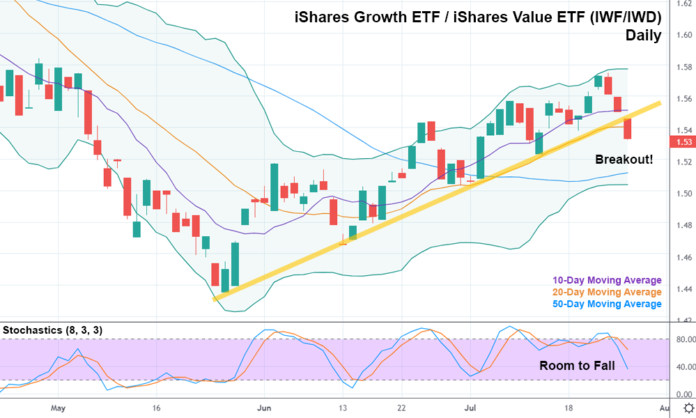 Stocks tumbled today after Walmart (NYSE: WMT) stunned the market last night with a profit warning. The Dow, S&P, and Nasdaq Composite all closed significantly lower this afternoon in response to the retailer's revision.
WMT fell 7.6%, dragging other retailers down in the process. Kohl's (NYSE: KSS) even plunged 9.1%, outpacing WMT's losses. "Mall stocks" cratered, too, led lower by Macy's (NYSE: M), which dropped 7.2%.
"The most important thing from the Walmart announcement is how inflation is changing what people buy," explained Upholdings portfolio manager Robert Cantwell.
"Food now makes up a bigger share of individuals' budgets, but overall spending still generally remains intact."
Big Tech also felt some heat today ahead of Google-parent Alphabet (NASDAQ: GOOG) earnings, released after the market closed today. GOOG missed on Q2 earnings and revenues estimates but rallied after hours nonetheless.
We'll see if tech climbs alongside GOOG shares tomorrow. Today, however, growth stocks (including tech) severely underperformed value, knocking one of my favorite indicators into a correction.
The iShares Growth ETF / iShares Value ETF (IWF/IWD) chart above shows that growth fell relative to value today, triggering a bearish breakout below the recent uptrend (yellow trendline). The stochastic indicator also suggests IWF/IWD has further to fall.
This means that when evaluating long and short trading opportunities, traders may want to favor one type of stock over another depending on its type. Long setups on value are probably going to do better in the coming weeks than long setups on growth.
Conversely, bear setups on growth should outperform bear setups on value. Growth longs, for example, outperformed value longs going back to late May when IWF/IWD entered an uptrend.
And that's part of what makes the bear setup on Taiwan Semiconductor Manufacturing (NYSE: TSM) – a growth stock – so appealing. The stock closed below its 10-day moving average today, set a lower high, and the stochastic indicator suggests that TSM has plenty of room to fall.
The IWF/IWD breakout is just icing on the cake. In addition, TSM has been a consistent performer this year on bear setups. Nearly every time TSM crossed below the 10-SMA, a profitable short resulted.
The next one is likely forming right now.
For those reasons, it might make sense to take TSM short with a trade trigger of $83.01, below today's low, as the general market attempts to recover tomorrow when Fed Chairman Jerome Powell is expected to announce a 75 basis point rate hike.
Stocks tend to rally whenever Powell speaks. But growth might not in light of the IWF/IWD breakdown, which has served as an accurate indicator for targeted longs/shorts during times of heightened volatility.