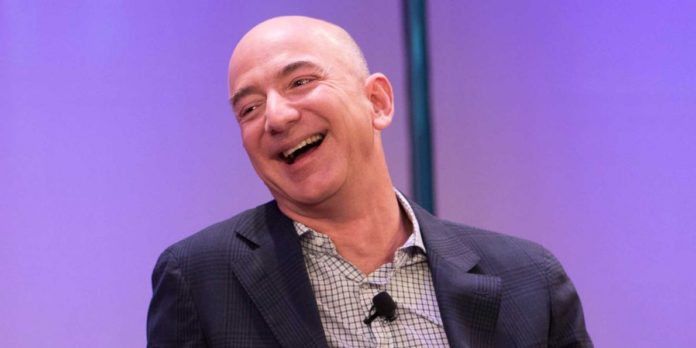 Jeff "Big Bucks" Bezos and his company are back at it this month after escaping the watchful gaze of antitrust regulators in July.
August, which was a comparatively terrible month for the market, wasn't quite so bad for Amazon (NASDAQ: AMZN), which dropped a little under 5%. As a leading tech stock (and "leading stock" in general), things could've gone very poorly for Bezos & Co. when growth stocks got hammered over the last few weeks.
Investors are apparently switching to "value investing", choosing lower-growth equities instead of their high-flying counterparts.
But nobody told Amazon that, it seems. It's not even mid-September and the mega-retailer's shares have almost retraced August's losses.
Add to that the fact that the U.S. and China are looking friendlier, and you've got the recipe for an Amazon rally that could pop not only the top off AMZN, but the general market.
In the weekly candlestick chart above, you can see that AMZN is on the move. Despite a slightly negative 50-week simple moving average, things are looking up for the once humble online book merchant.
Share prices stalled in late July, dropping dramatically over the next month and a half. But at the peak, AMZN actually set a higher high relative to the high from late April. Higher highs aren't ideal – I'd rather see higher lows to confirm uptrends – but they're still a good sign.
Thankfully, AMZN just set a higher low as well, signaling that an uptrend continuation is likely. The low from early June is an extreme low, however it's valid in this case as it took around 6 trading sessions to bottom out and recover – meaning that it should absolutely be a factor in measuring the recent standout lows and levels of support.
And should AMZN move past the current week's high (or whatever that is on Friday when the weekly candlestick closes), it wouldn't surprise me at all to see an AMZN breakout past the high from July.
Which, if that happens, means we'll be in new all-time high territory.
In fact, Mark Mahaney, an analyst at RBC Capital Markets, sees Amazon rising nearly 50% in the coming year on the heels of some new services being offered by the company.
"We believe AMZN may well generate accelerating revenue & unit growth for some time as One-Day goes nationwide & worldwide," Mahaney said.
"With one-day as the catalyst, we now model sustained revenue growth acceleration and raise [2020 estimated] Revenue to $337B."
And though I'd normally not take a fundamental analyst's opinion seriously, Mahaney raises a good point here
Amazon, more so than any other online retailer, is known for mega value and shopper convenience, mostly revolving around their prime membership that includes 2-day premium delivery.
The competition – namely Target and Walmart – stepped up over the last year to steal some of Amazon's market share by offering similar benefits to customers.
But with One-Day (shipping) coming soon, it's going to be hard for the "other guys" to top Amazon's basket of services.
Bezos has his secret weapon for the upcoming retail wars. And he's almost ready to use it.
So, wouldn't it make sense to take Amazon's side before they dominate the sector once again?
I'd say so. Especially with shares at "bargain bin" prices – somewhere they haven't been in quite a while.