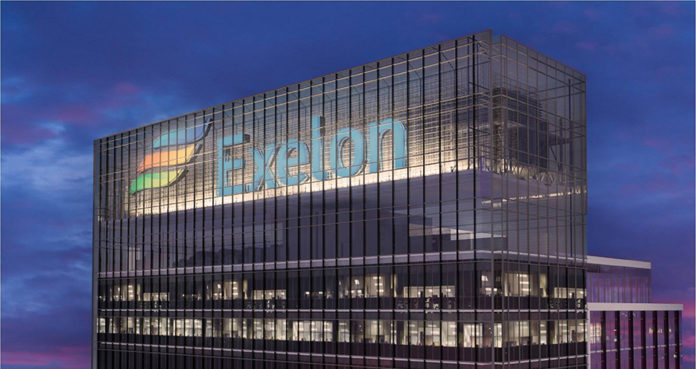 Since 2016, you'd be hard-pressed to find a sector that's made investors happier than diversified utilities. Over the last three and a half years, the industry's stocks are up 116%. Thus far, in 2019, the sector's risen 23%.
Best of all, the gains were consistent. The sector hasn't seen a "down year" since 2015.
However, not all diversified utility stocks are created equal. Some of them haven't had quite the 2019 that their peers have.
Exelon Corp. (NASDAQ: EXC), a Chicago-based power generation company, got stuck at a 10-year high back in June. Since then, EXC shares dropped before recovering late August. Then, EXC came roaring back before stalling yet again at a lower high in September at $49.32.
Over the last three weeks, EXC ran into some more trouble and is now retracing its September gains.
And if EXC keeps dropping, the stock could easily hit another rough patch – just like it did from June-July, where share prices plunged 14%.
In the weekly candlestick chart above, you can see that EXC has plenty going against it. The stochastics make the stock appear slightly overbought, even after the selling of the last three weeks. A lower high was set last month (relative to the high of May/June), and should EXC keep falling; a lower low could eventually occur as well.
Most importantly, the current weekly candlestick (which closes on Friday) is trading below the last six candle bodies. Because of that, the upwards-sloping 50-week moving average isn't scaring me away from going short. Typically, when the 50-week moving average is moving counter to our intended trade direction, I need strong evidence that it won't simply reverse into an uptrend continuation.
EXC's most recent candlestick gives us reason to believe that won't happen, provided it closes at around the same spot (or lower) this coming Friday.
And if that does happen, setting a trade trigger at $46.50 – below the outlying low from the last six candlesticks – might make sense. EXC appears to have rounded a corner after setting a lower high.
Where it goes from here could result in a significant fall, accompanied by rapid gains for short-term traders willing to take a bearish stance. With China "poo-pooing" Friday's partial trade deal, rosy market sentiment could turn in a hurry.
Any more negative momentum at this point could drag EXC down further.
In fact, that's precisely what short side traders are counting on.