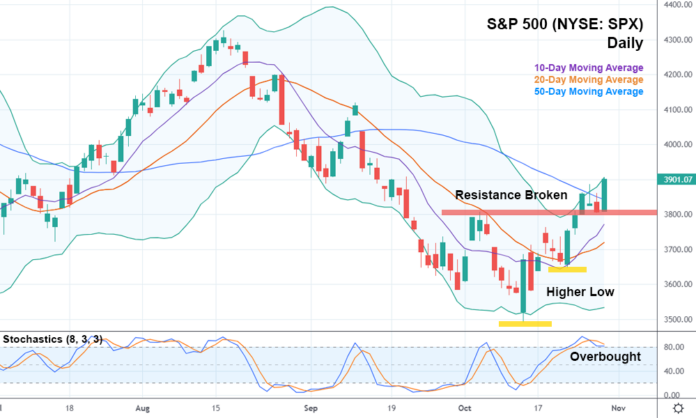 Stocks ripped higher today as investors bucked poor Big Tech earnings once more. The Dow, S&P, and Nasdaq Composite all gained with tech shares leading the way. Treasury yields ticked higher but not enough to spoil the party.
Amazon (NASDAQ: AMZN) reported disastrous earnings last night and saw its shares fall 21% in after-hours trading. Apple (NASDAQ: AAPL) reported a mediocre quarter, but it was good enough to spark a major rally today.
"Apple's really the lone star, if you will, of the mega-cap tech stocks," said Jay Hatfield, CEO of Infrastructure Capital Management.
"It's just a unique market where bad is terrible, but OK is good, so, on a relative basis, it's spectacular."
Overall, it was a huge session for bulls that could lead to an even larger Monday gain.
The S&P rebounded off resistance at the open as bearish sentiment evaporated. The stochastic indicator shows that the index is overbought, but who cares? A higher low has been set and, more importantly, the stock buyback window opens back up on October 31st.
Early filings suggest that 2022 will be the largest buyback year of all time. The reason being that companies are buckling down in anticipation of slowed growth. Cash that would normally go toward pursuing growth will instead be used to snap-up shares that look cheap relative to their 2021 highs.
This could fuel a bigger melt-up on Monday and Tuesday before Wednesday's Fed rate hike. Tesla (NASDAQ: TSLA), for example, is considering authorizing a stock buyback worth anywhere from $5 to $10 billion. It would be TSLA's first-ever buyback.
That poses a huge opportunity for tech traders in regard to the recent QQQ rally. Unlike the S&P, QQQ has dipped out of overbought territory on the stochastic indicator.
The Q's have also set a series of higher lows, and they're approaching resistance (red line) with haste. A sustained move higher could take QQQ above resistance, launching a potential breakout as tech slingshots to overtake value.
For those reasons, it might make sense to take QQQ long with a trade trigger of $287.01, above resistance, as the general market looks to extend its rally.