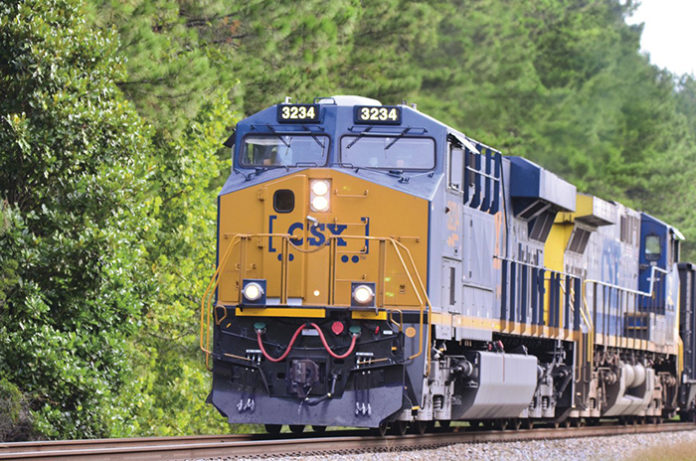 It looks like the market's finally starting to buckle, led by a struggling tech sector. Broadcom (NASDAQ: AVGO), a semiconductor company, just reported dismal earnings, leading plenty of investors to expect similar results from other companies in the industry.
Add to that the overbought state of equities, and you've got the makings of a market-wide sell-off.
But not every company is going to drop. Some will end up doing quite well.
More importantly, though, a handful of stocks are going to absolutely plunge once the selling frenzy begins – presenting a huge opportunity to technical traders like ourselves.
CSX Corp (NASDAQ: CSX) is one such company. And it's not even a tech stock!
In the daily candlestick chart above, you can see that CSX is basically begging for a short from eagle-eyed traders. A lower high was just set (when compared to the high from May) and the stochastics are tumbling below 80.
The most intriguing bit of evidence though is that share prices are about to drop below the 50-day simple moving average (SMA). Much like Bollinger Bands, I view the 50-SMA cross as a supplemental tool to use when identifying entry points.
I would never use a 50-SMA cross on its own as a trading signal (like many traders do), though, and in this case, it's being used to "complete" the prediction of a future downtrend.
In addition, we can use it to help set our trade trigger, as the low of the most recent candlestick sits right on the 50-SMA.
As usual, I like to set my triggers 0.50% off the lowest low of a range of candlesticks, and over the last 5 days, the lowest low would be $77.35.
That makes my trade trigger (and entry point) $76.96, which when you receive this newsletter, may have already been breached.
In fact, I completely expect it to based on what the chart is telling us.
So, as the week progresses, keep an eye on CSX to see what it does. We could be in for a repeat performance of what happened back on May 23rd, the last time CSX dropped below the 50-SMA.
Prices rode the lower Bollinger Band down significantly in just a few days, and I can guarantee you that anyone who snapped-up a few CSX puts at the 50-SMA cross would've been very happy campers.
This time, though, the conditions are even better.
The current price sits well above the lower Bollinger Band and the stochastics read at a much higher level, telling me that this trade has far more profit potential.
And that – quick, "easy" gains – is why we trade in the first place, isn't it?