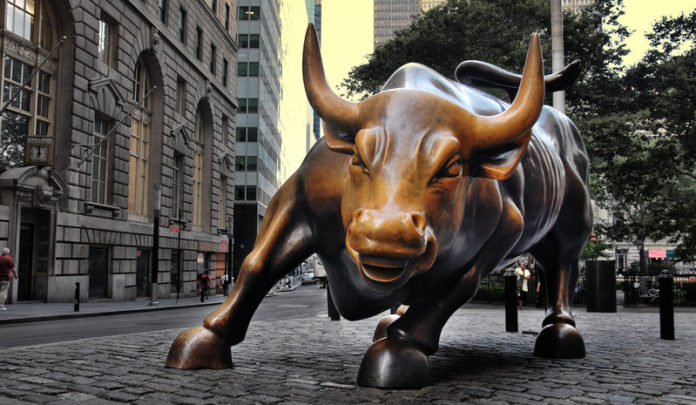 Even though the market ended its 6-bar winning streak yesterday, investors are still excited about the appearance of a certain "significant bullish indicator".
In the past, its mere existence preceded long, healthy runs to all-time-highs in every major index.
What has folks so fired up is the fact that S&P 500 rose above the 50-day moving average last Friday, and as of today, has managed to stay above it.
Since 2009, the S&P has crossed the 50-SMA ten different times (with a minimum of one month between consecutive crosses), and on nine occasions, the market ended up rising.
And if you take that statistic at face value, it seems like equities have a pretty good shot at success now that the 50-SMA has been breached.
But what's different this time, compared to the other crosses, is that the market is in a far worse spot after going on a "rip your face off" rally over the last week.
In the daily candlestick chart above, you can see that we have a number of issues here – all of which indicate that a sell-off, NOT a rally continuation, is to be expected.
First, the stochastic reading currently sits at 88. Any number above 80 suggests that an asset (or index in this case) is overbought. The last time stochastics were this high was back in late April, right before the market cratered.
Next, we have an encounter with the upper Bollinger Band (BB). Remember, in a past newsletter we talked about how 90% of an asset's price movement will typically occur between the upper and lower bands. The S&P 500 is no different in this regard, and contact with the upper BB will often result in a move back downwards if other indicators (like the stochastics) suggest a correction as well. Again, the last time this happened was in late April, right before stocks got crunched.
Finally, the market just set a lower low on the 1st of June. If we're going to see a continued, long-term uptrend, then equities MUST sell-off in order to set a higher low in the coming days. Simply put, small, healthy sell-offs are essential to an extended bull run. In this case, the market could be getting ready to do just that after expending so much energy in the recent rally.
As much as I'd love to say that the S&P will keep rising without any bumps along the way, the truth is that last week's massive surge could finally be coming to an end. The crossing of the 50-SMA, in the grand scheme of things, doesn't mean much when you've got sky-high stochastics and the upper BB hanging overhead.
That's not to say that the market's setting up for another downtrend, though. What we're seeing here could simply be an "exhale period" before the next leg up, complete with technical indicators to support another strong move to the top.