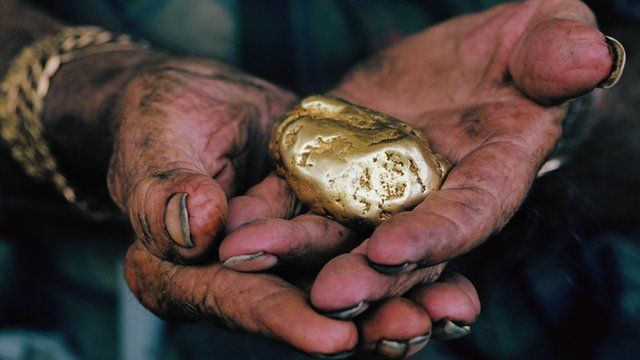 The economy looks good, the trade war has a "phase one" deal, and the market is rising.
So why is gold going up, too?
Because, as usual, current events have given rise to uncertainty – the fulcrum upon which gold prices shift.
This time, it's North Korea's long-range missile tests that have investors scared. Fearing the worst, even the staunchest bull is starting to eye gold as a hedge against Kim Jong Un.
Especially while it's rocketing upwards in price.
The end times have yet to truly arrive, but it might make sense to become a "gold bug" until then.
Temporarily, at least.
And it's all thanks to gold's recent behavior, which has provided evidence of an approaching rally. Potentially in the not too distant future.
In the weekly candlestick chart above, you can see that the SPDR Gold Trust (NYSE: GLD) has had a great year. After selling off in March, gold soared in response to trade war uncertainty. Now, even with a "phase one" trade deal secured, it's starting to recover yet again.
And this week, GLD broke out of its minor bearish trend, as shown in the yellow trendline above (which traces the standout highs since late August). Better yet, GLD's sitting on top of two higher lows, the last of which was set in November. The current weekly candlestick (the "breakout" candlestick) is trading above the last six candlesticks, and despite its huge week, the stochastic indicator remains below 80 – suggesting that GLD isn't overbought quite yet.
If GLD keeps rising and manages to trade above the current week's high, it might be a good idea to go long with a trade trigger of $143.18. Key resistance lingers overhead at around $148, but if a bullish trend continuation occurs (which could happen very soon), we could see another breakout above that.
Even if everything else – the economy, trade war, and the North Korea situation – remains stable.
The 2020 presidential election, which will have major implications on the market, is going to be next year's transformative event. Investors are getting nervous about a Trump loss. To many bulls, buying gold at this point simply makes sense, to provide some portfolio protection if nothing else.
Whether they'll need it remains to be seen. At this point, though, the whole ordeal presents short-term traders with an opportunity to generate some quick, "panic-driven" gains.
And there's certainly nothing wrong with that.